Life on Kauai
With its green, mountainous heart, its rugged canyons and its lacy, white fringe of beaches (64 to be exact), Kauai is an American dream come true. Kauai is an island rich with natural beauty, a laid-back vibe, and the aloha spirit. With a population of approximately 69,000 residents, living on Kauai is like living in a small town. The pace of life is slower and some of the finest things to do on island are all FREE. I remember coming here 11 years ago and staying on my friend's organic banana farm and feeling the delicious trade winds paint my skin. That's one of the magical aspects of Kauai that my wife and I love here. If you are looking to find your piece of paradise, we'd love to help you and provide the resources to make your experience fun and fulfilling.
The weather never gets too hot or too cold. Even in the winter time when we tend to have more wind and rain, the temperature is in mid 70s and never drops below 55 degrees. In fact when the temperature is in the high 50s, you will hear locals complain about having to wear their long sleeve shirts. If you hail from the east coast or midwest I'm sure that must sound irritating. The South and West Sides of Kauai are pretty much sunnier and hotter and the northern side of the island tends to be be wetter and lush and green. The rainfall moves from the mountains so, as you can see from this rainfall map, the further up in the mountains you get, the more rain you can expect. Kauai has lots of little micro climates and you'll often hear people say, "If you don't like the weather on Kauai, wait five minutes"!
What Area Do I choose?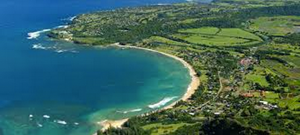 The Hanalei region or the "North Shore" is lush, tropical and very green. The reference of North Shore encompasses everything from the southern tip of Kilauea all the way to the "end of the road" where you will find Ke'e Beach. Once you get North of the Hanalei bridge, you are far from town. It is a one lane bridge which can close down in heavy rains and you need to be aware of that. Towns and neighborhoods include Haena, Wainiha, Hanalei, Princeville, Princeville Ag, Queen Emma's Bluff, Anini Beach, Anini Vista, Kalihiwai Bay, Kalihiwai Ridge, Namahana Farms, Secret Beach, Kilauea, Seacliff, Kaupea Road, Waipake, Waiakalua and more. Some of islands most prestigious addresses and most spectacular homes and estates are located on Kauai's North Shore.
An aerial view of Hanalei Bay
The Kawaihau region runs from Wailua up to Moloaa. At the center of this region is Kapaa town. Kapaa has lots of shopping from several shopping centers to many boutiques and local merchants. Kapaa has a wide variety of restaurants and two health food stores. First Saturday in old Kapaa town happens the first Saturday of the month. It's a big street fair for about 4 hours with great food, crafts, entertainment and its a lot of fun. One of unique features of this area is Ke Ala Hele Makalae which means path that runs by the sea. Currently 7 miles long, this is a multi-use path where people walk, bike, take their pets for walks, while drinking in the ocean views and feeling the breezes of the islands.
The path by the sea, Ke Ala Hele Makalae, approaching Kealia Beach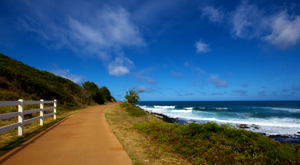 The Lihue Region is the islands central hub with Lihue Airport, Nawiliwili Harbor and Wilcox Hospital, and all county and state government offices. Here you will find Costco, Home Depot, Walmart, Macy's, Sports Authority, Pier One Imports, Safeways and more mainland brands for your shopping pleasure. are nearby . Some of the real estate for sale in Lihue can be found in these neighborhoods: Kalapaki Beach, Lihue, Puhi, Puakea Golf Course, Ulu Ko, Pua Ko, Pikake Subdivision, Kukui Grove, Niumalu, Lihue Gardens, Isenberg Tract, Hanamaulu and Molokoa I,II, III.
View of Kalapaki Bay from the Kauai Marriott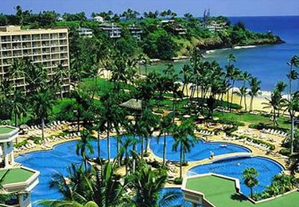 The Koloa Region is where you will find towns like Kalaheo, Lawai, Omao and of course Poipu Beach and Koloa town. Known as Kauai's "South Side", this area of the island is reputed to be warmer and sunnier, and it is. There are numerous wonderful beaches and some gentle snorkling available at Brennecke's beach. Mahleupu Beach is secluded and a popular spot for wind and kite surfers. South side real estate is located in the neighborhoods and town of Koloa, Koloa Beach, Koloa Landing, Kukuiulu Golf Course, Kukuiula Subdivision, Whaler's Cove, Kukuiula Golf Estates, Koloa Estates, Lawai, Omao, Kalaheo, Kakela Makai, Kiahuna Golf Village, Kai Ikena, Waikomo, Poipu Crater, and Port Allen.
Popular, safe and accessible, Poipu Beach has it all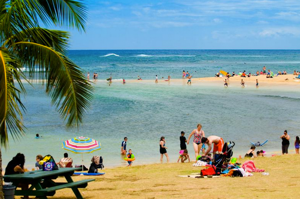 The west side of the island includes the towns of Kekaha, Waimea, Hanapepe, Eleele and is described as the intermingling of natural wonders and Hawaiian educational landmarks. There are many historical sites visit and cultural activities to explore here. Waimea Canyon, known as the "Grand Canyon of the West" is a popular tourist attraction with mind boggling views. Polihale State Park features one of the longest stretches of sandy beach on island. Bounded by etched cliffs, blue sky, and spattering waves, it is no waste of time just staying there, and getting mesmerized with the splendor of nature. Real Estate for sale includes neighborhoods like Waimea, Waimea Valley, Kekaha, Kekaha Beach Homes, Makaweli, Hanapepe, Hanapepe Heights, and Hanapepe Cliffside.
Music & the Arts:
You'll find Kauai to be a community vibrant with all types of creative talent. There are concerts regularly ranging from Classical to Hawaiian. We have 2 jazz festivals, the Kauai Music Festival , countless cultural events for Hawaiian Music, Hula, Dancing, Ukelele performances and Slack Key guitar. You can check out the local entertainment scene for ongoing activities at the Kauai Festivals Site. There is a verdant Live theatre community. Theatre groups such as Kauai Community Players, Kauai Performing Arts, Woman in Theatre, and Hawaii Children's theatre put on production through the year. The local college Kauai Community College also has a wind symphony, jazz big band and full orchestra. There are many chorale groups including Kauai CHorale and Kauai Sings. You will simply be blown away by the quality and variety of arts productions here on Kauai.
Healthcare
Kauai has three major medical facilities around the island: Wilcox Hospital (part of the Hawaii Pacific Health medical system), Kauai Veterans Memorial Hospital on the west side, Mahelona Medical Center in Kapaa, which has special programs for the aged and disabled. There's a wide variety of alternative health providers and multi-disciplinarian healers as well. Naturopaths, Chiropractors, Acupuncturists, Massage, and many alternative modalities can be found in abundance.
Retirement on Kauai
Kauai is a wonderful spot to retire for those who love a warm climate and desire an active lifestyle. Kauai offers an endless array of water activities, hiking, golfing, fishing, and pristine beaches as well as beautiful scenery and glorious sunsets. A great source of information on our beaches, surf conditions, and water safety information is the Kauai Explorer website.
Some questions to consider before making a retirement move to Kauai:
Do you like living in a small close knit community? Do you like tropical fruits and vegetables all year long from local growers? Do you like having a slower, more relaxed pace of life?Would you like living in a place where nightlife is almost non-existent after 11pm? Will you be too far away from my family and grandchildren? Would you miss the traditional four seasons? I think you see where we are going. It's a slower pace of life, a vibrant and artistic community, the aloha spirit, and a place where people love to help each other. If this type of lifestyle resonates with you, Kauai may be a place you wish to call home.
The cost of living is relatively high on Kauai. Gas is of course expensive (but that's true anywhere nowadays). Food costs are generally higher than on the mainland because much of it is shipped in to the island. Milk, eggs, and fresh vegetables can cost almost twice as much as they do on the mainland. But by shopping at our many farmers markets and buying locally, you can economize on healthy, local grown produce. Our home prices are high but our property taxes are relatively low. And some of the most enjoyable activities, like walking our east side path, Ke Ala Hele Makalae, or going to beach, are free!
Golf on Kauai
Kauai is a golfers paradise especially if you like playing in the wind. Spectacular ocean and mountain views surround every one of it's 7 resort and 2 county-owned golf courses. When you live on Kauai, you can get yourself the Kama Aina rate. At the Wailua County course, you can purchase a monthly card for unlimited play for $60.00, WOW!
You will often hear residents say "Lucky we Live Kauai". It truly is one of the most beautiful spots on earth. We love it here. If you value outdoor adventures, stunning natural beauty with mountains and oceans, spectacular beaches, nine golf courses, the incredible surfing and splendor of the ocean, with a friendly community of diverse ethnicities, then Kauai may be the spot for you.